Champion Stone Limestone Quarry at Work
Limestone is a natural sedimentary rock composed mostly of mineral calcite that is formed over millions of years. Our awe inspiring process involves extracting the limestone from the ground then fabricating the stone into the varied popular building material you so often see. We proudly mine our Lueders limestone in West Texas just outside Abilene, near the small town of Lueders.
Our production begins with the removal of soil to reveal the natural limestone ledges with weathered surfaces known as roughback or bedface. The blocks are either cut or popped out with a fork loader and taken to the mill for fabrication. Very large or irregular mill stones are manually modified with feathers and a jack hammer. Blocks are then moved via front end loader to belt saws or circular saws for cutting down. These are automated saws that require programming by a skilled technician. Once cut, blocks are turned into billets and then either fabricated into slabs or taken to a hydraulic splitter that splits or chops material into full veneer building stone. If thin veneer flats are needed, our ThinStone specialized saw is used. If L Corners are required, our specialized ThinStone machine fabricates to the specified dimensions. If panels, slabs, tiles, coping, countertops or a finish are required, our polisher is used. Before shipping, we wrap and secure finished goods in pallets or bulk for transportation. A typical semi-truck load is 24 tons (48,000lbs). 24 tons of full building stone veneer covers approximately 800-1000 square feet. A 24 ton load of thin veneer covers approximately 3,500-4,000 square feet.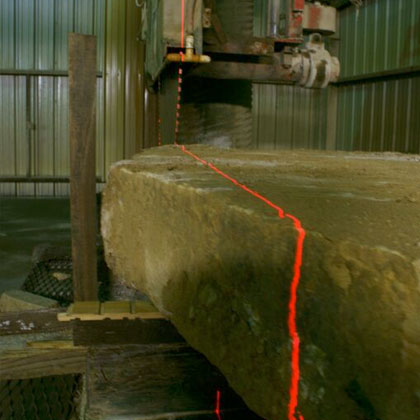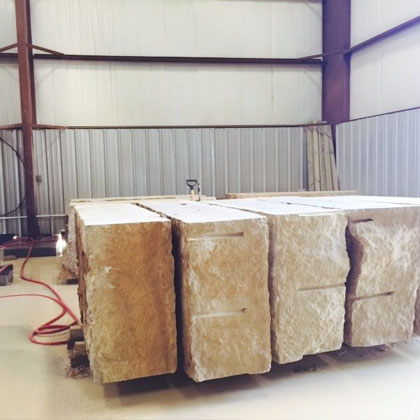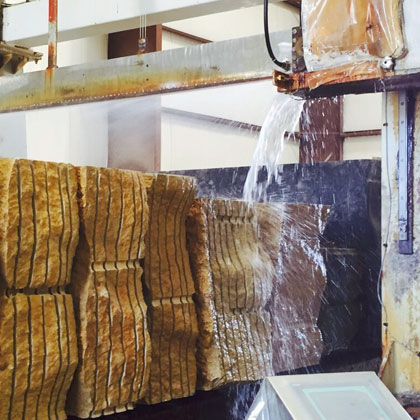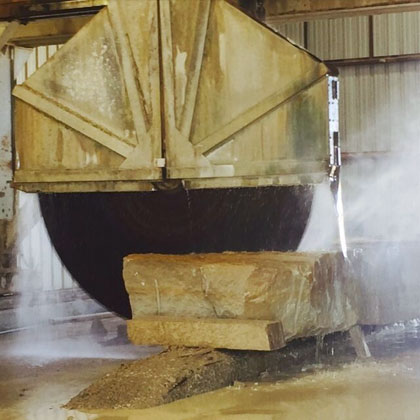 Cubic Feet Calculated
Length x Width x Thickness (in inches) / 1728 1 cubic foot = 1728 inches
Square Feet Calculated
Length x Width (in inches) / 144 Square Feet; 1 square foot = 144 inches
Linear Feet To Square Feet Calculated
((Linear Feet x 12) x Width of Tile (Inches)) / 144 = Total Square Feet
Tonnage Calculated
1 Cubic Foot of our Limestone weighs approximately 150 pounds.
Cubic Feet x 150 lbs. / 2,000 = Tonnage of Stone
*Please note, depending on what finish you select, color and texture will vary.
Please contact one of our experienced design and sales professionals with any questions you may have. Email info@championstonecompany.com or (325) 548-2568. We look forward to working with you to fulfill your Lueders limestone needs and exceed your expectations.
*** Limestone is a natural product created over millions of years that thankfully, varies in color, texture and size.