Pool and Water Feature Accents
The combination of stone material, surface finish, and paving pattern plays an enormous role in defining the aesthetic and character of an entire project. With almost limitless possibilities, the blend of these variables is a slight, but critical decision that is influenced by both the desired final appearance, as well as the appropriateness and required performance of the selected paving application. We understand the importance of making the best decision possible and offer a range of paving and finishing options to suit your needs.
Cobblestones, waterfall rocks, paving and pool coping, thoughtfully combined with nature, have made Champion Stone Company the premium Lueders limestone supplier for landscape architects and landscape contractors.
Pool Coping
Depending on your needs, we can provide whole slabs without a finish, down to cut to size coping with your desired finish.Most of our ledges can be used for this material; however buff / powder gray and charcoal are the most popular.
Our capabilities allow us to make slabs in custom thicknesses and in any size, typically 40"x80".
We can provide a bullnose edge with 10"x2" and 12"x2.5" heights.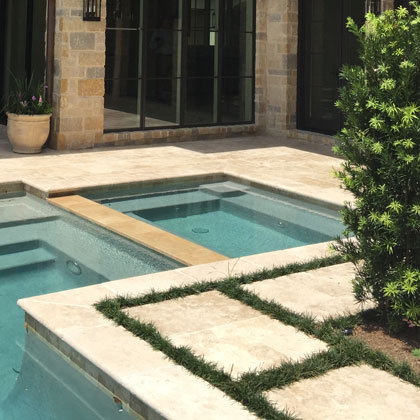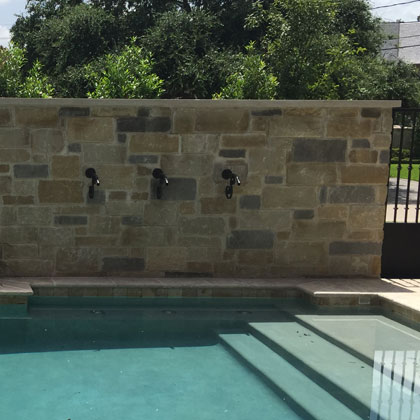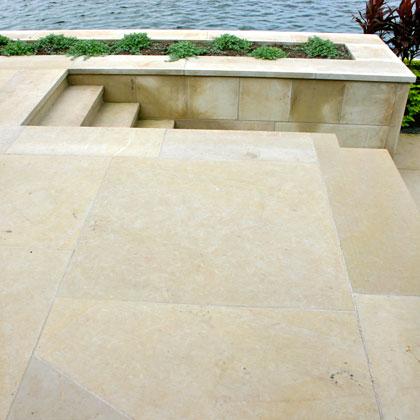 Pavers
We offer a range of paving options to suit all types of design: Old World and aged to sleek and modern. Pavers can be made from most of our stone colors in any size ranging from 4x4, 4x8, 6x6, 6x9, 6x12. We can do custom sizing as well. We have finished including tumbled, honed, brushed and bush-hammered that add architectural and design detail making your space truly unique. A few of the more common patterns are below: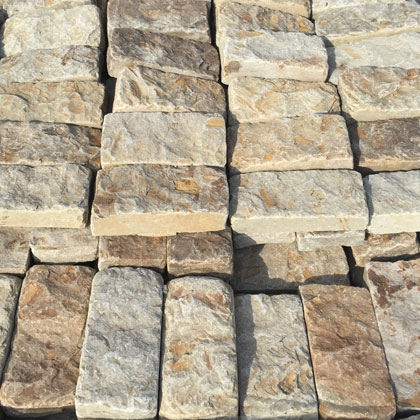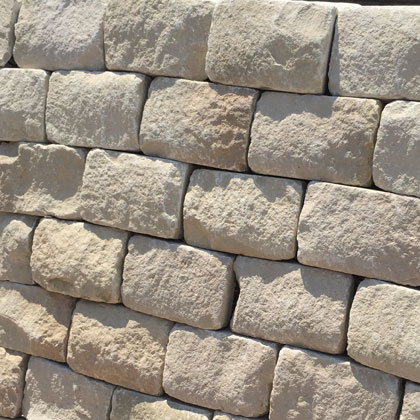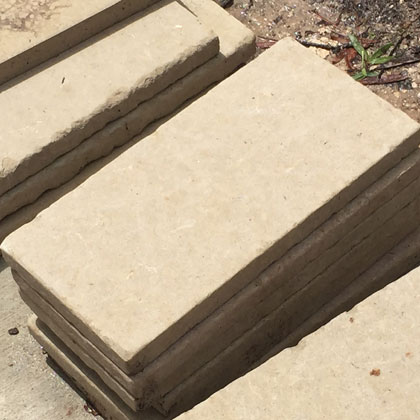 Slabs
Useful material made available for custom applications and field use.
Charcoal, Buff / Powder Gray, Brown and Chocolate are excellent options for slabs.
Belt sawn slabs usually 40" x 80". Custom sizes available
Typical thicknesses range from .75"- 4" thick, with custom sizes available
These can be used for sills, coping, pavers, steps and tiles.
Larger thickness available and work well for fence caps.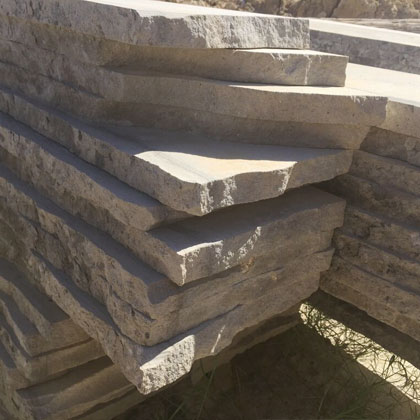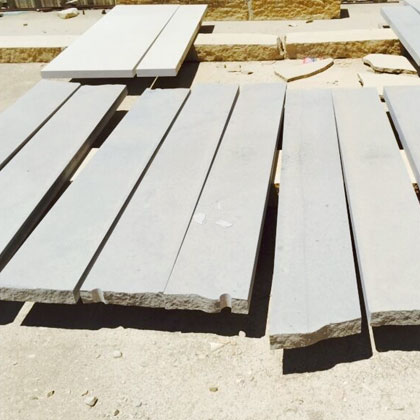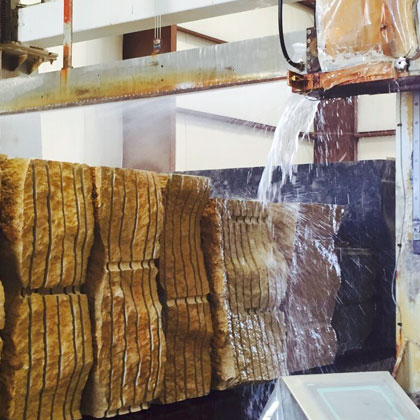 Mill Stones/ Waterfall Rocks
Large accent and transitional material used in various landscape applications from water features to flower beds. Creates a natural change in elevation. Unique and organic material for an industrial, academic or government sign. A natural choice in pool-scape and outdoor living areas. Various Sizes and heights available. Custom pieces available for horizontal or vertical fountains.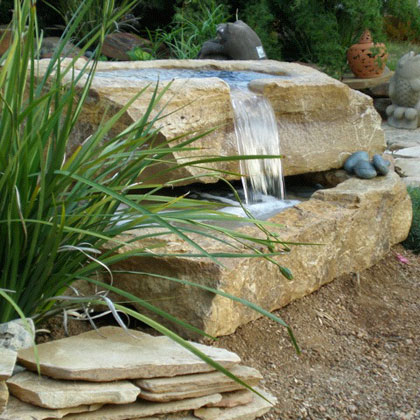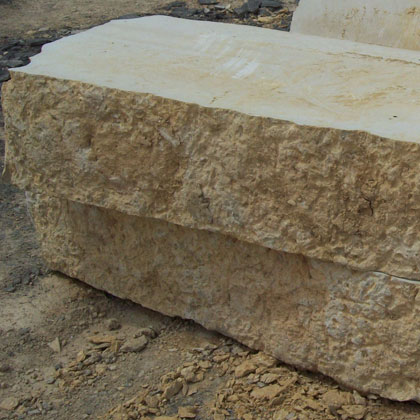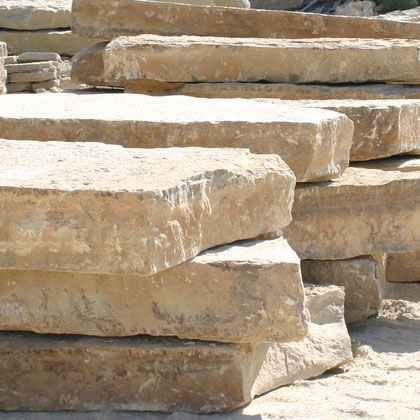 Boulders
Natural rock brings an organic and unique element to your pool and outdoor space. The added dimension elevates the application and provides depth and transition. Various sizes and heights available.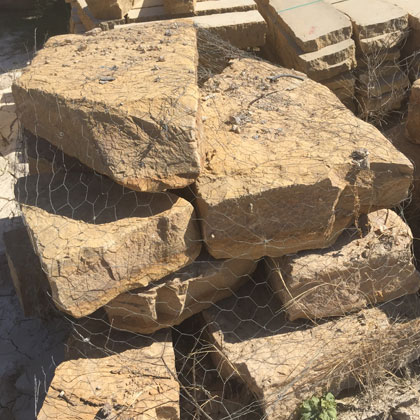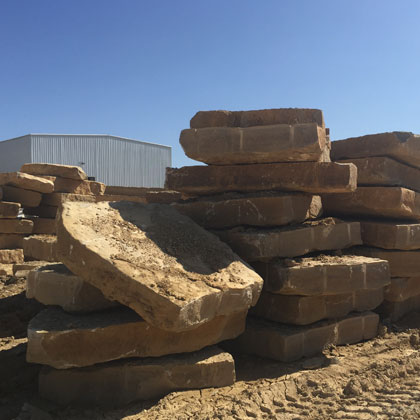 Contact Champion Stone today to discuss your project and specifications via email or phone at (325) 548-2568. We work with designers, architects, custom home builders, commercial builders and developers, pool and landscape companies as well as re­sellers and homeowners. Your project and success are important to us. We are here for you.